Accessing an ELOG server and its logbook(s)
To access a logbook, point your Web browser at the appropriate URL. The default for a local Elog is http://localhost:8080/logbookname. Logbook files are stored in directory logbookname which is a sub-directory of the logbook root directory, defined by the administrator. See the administrator guide on how to create a new logbook.
If several logbooks are defined on the server, the entry page may be a list of all logbooks, with their descriptions, number of entries, and links to enter the logbook you want to use.
Alternatively, you may be taken directly to a specific logbook. By default you will see a list of entries, but the administrator may have defined a different "default view" for the logbook, like the list of the day's entries, or directly display the last entry, etc. (depending on what is most convenient for that logbook's purpose).
Each entry in a logbook is identified by an unique ID, which is last part of the URL when that message is displayed. This ID might be used to create a bookmark in a browser pointing directly to a specific entry.
There are four ways through which access to a logbook may be controlled: it may be open for all to read ; it may require a common "read" password for all users ; it may require each user to have an individual user account (login name) and password ; finally, access may be granted or not depending on the address of the workstation you are using.
---
Adding stuff to a logbook
If you have "write access" to a logbook (by one of the same four methods as for read access), then you may use the "New", "Edit", "Reply" and "Delete" commands.
For the quality of the information committed to the logbook, you need understand and use these as well as possible. Here are some of the important features for each commmand :
New :

you will not be able to save your entry if all attributes marked with a red star (*) are not filled in.

some attributes may be pre-filled from system variables (like your user name). Pre-filled attributes may be still editable or read-only (like the entry creation date).

attributes may be text fields (limited to 100 characters), list-boxes (max. 100 values), or check-boxes. There is also a special type of attribute where several values are listed on a line with check-boxes, and you can check as many values as needed.

a nice touch : URLs in attributes (http://..., ftp://..., mailto:...) are automatically converted to links.

in addition to the above URLs, one can enter a tag elog:<id> which references another logbook entry. The tag elog:<logbook>/<id> references a message in another logbook on the same server. The tag elog:<id>/<n> references attachment number n in a logbook entry. To reference an attachment in the current message, one uses elog:/<n>. An anchor inside an entry can be referenced with elog:<id>#<anchor>.

the Text multi-line field, if present, may be pre-filled with a template if entries need to have a common, consistent format across the logbook (especially for HTML). There may also be a comment inserted before it to explain local rules and conventions, upload rules, etc.

check the "Submit as HTML" box if the entry contains HTML markup.

a logbook may be configured to send a notification e-mail to various recipients each time an entry is submitted. This may be the default behaviour, and you should check "Suppress notification" if it is not wanted. Or it may be checked by default, and you need to explicitely uncheck it to send the mail. Then again, you may not have a choice... (note that notifiation recipients may or may not be disclosed).

if the logbook allows attachments, there will be a number of fields with "Browse" buttons at the bottom of the form. Use these to pick one or more files on your local computer, they will be uploaded to the ELOG server as you submit the form. IMPORTANT : there is an upper limit on the size of individual attached files. By default it is about 1 MB but can be changed by the administrator.

Edit :

normally the Edit form will have all the values of the existing entry in its fields for modification. However, sometimes you may see fields that have been blanked if this makes sense for a particular logbook application (e.g. a "Last modified by" field).

the "Submit as new entry" checkbox only appears on Edit forms. If it is unchecked, the modified entry keeps its original creation time-stamp. If it is checked, the modified entry becomes the latest in the logbook, as if it had just been created. Again, it is possible that this is checked by default, or disabled altogether on some logbooks.

managing attachments through this form is easy. If all you want to change is the attributes or text, don't touch the fields at the bottom and the original attachments will be preserved. If you want to add an additional attachment, use an empty field. If you want to update an existing file, use the "Browse" button below that file's name to specify the new one. Lastly, if you want to delete an attachment without upoading a new one in its place, you must type the magic word "<delete>" in the field below its name.

Reply :

this command creates a new entry, but with the current entry's text "quoted" (with '>') in the compose form, much like when replying to e-mail.

the new entry has a special "In reply to" attribute with a link to the original entry ; the latter also acquires a "Reply" attribute with a link to the new entry. Unfortunately these links cannot be trusted in the present ELOG storage system, and the whole scheme gets somewhat confusing when there are several replies.

Delete :

nothing much to say about this one, except that there is no "Recycle bin" or whatever : once you have confirmed the deletion of an entry, it's gone for good, so be careful ! (same holds for the replacement or deletion of an attached file).
---
RSS Feed
RSS (RDF Site Summrary or Really Simple Syntication) is a web feed format to publish frequently new or updated ELOG entries. This is a bit like the email notifications present in ELOG, but the RSS system does not go through an email reader, but through a dedicated RSS reader. This helps to seperate ELOG updates form other email or spam. An RSS "channel" can be subscribed to, so one gets notified whenever a new or updated entry exists. One can either use a dedicated RSS reader or aggregator, or use the RSS functionality of a web browser, such as Firefox or Google Reader.
To obtain the RSS feed, one simply has to request the file elog.rdf from a logbook. For the ELOG forum, one can enter the URL
https://elog.psi.ch/elogs/Forum/elog.rdf
The browser then offers the possiblity to subscribe to that logbook: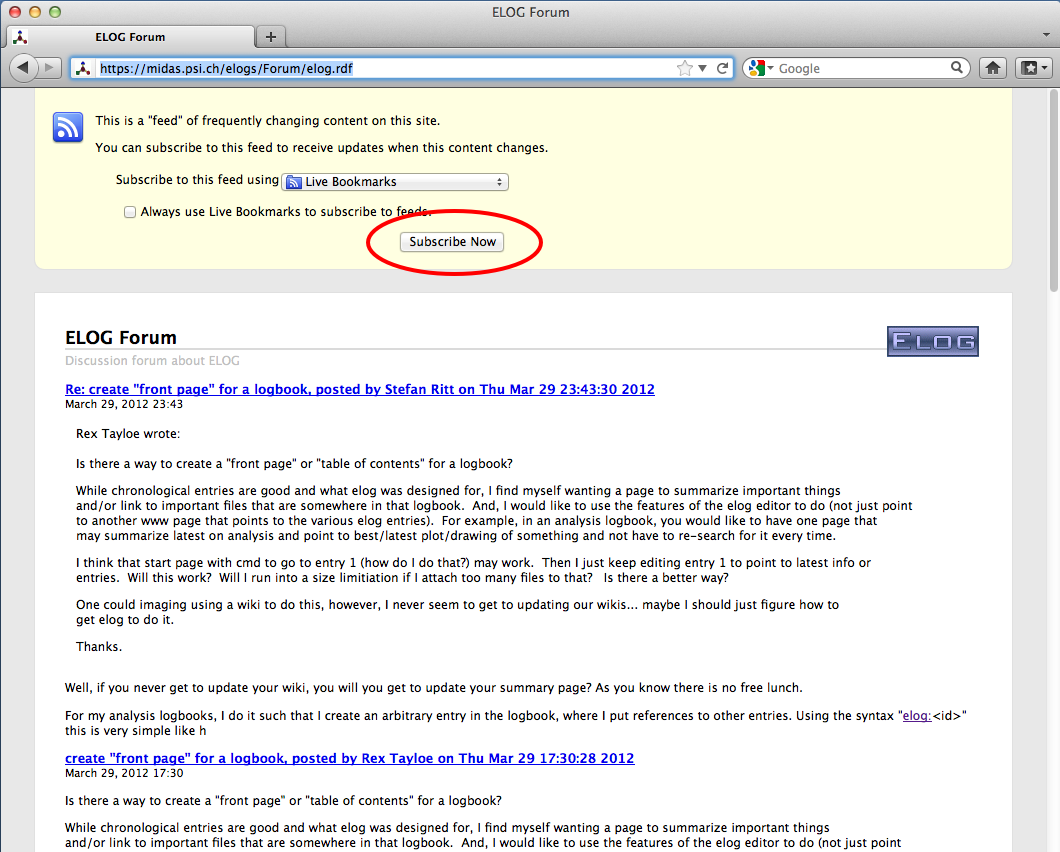 In case of "Live Bookmarks" in Firefox, new logbook entries automatically appear in the bookmark list:
>

Standalone RSS reader can also notify the user of new entries with dialog boxes and sounds. For a list of availabel RSS aggregators, see here.